Find out all about my real estate drone photography. Have a look at my portfolio below:
Luxury Villa Cambier – Mauritius
Arguably the private villa with the best view on the island! Situated on the flank of Le Morne mountain, overlooking the bay and Ile aux Benitiers … just stunning 😍 Staying in this beautiful villa with my group during the Mauritius drone trip.
---
Heritage Villas Valriche – Mauritius
I was brought in to shoot some drone videos for the bigger promotional film of Villas Valriche, as well as a few drone photos of the luxury villas. Happy to see one of my photos as the cover photo on their website now:
And this is the full promotional film: (watch it in 4k)
---
DHL Global Forwarding at Brussels Airport – Belgium
Quick shot of the logistics hub of DHL Global Forwarding at the airport.
---
Eikendal Lodge – South Africa
This beautiful lodge is situated in the middle of their own vineyard. What a setting to wake up. Walk down the Eikendal estate and taste their wines, a must do in Stellenbosch ?
---
Carrieres du Hainaut – Belgium
A particular project where I had to do a sunrise shoot for the biggest stone quarry in Europe, located in Belgium. The Carrieres du Hainaut is part of the SigmaRoc investment group. I shot these in November, so big autumn colors here ? Real estate drone photography at its best!
---
Duracell factory – Aarschot, Belgium
A commissioned drone shoot of the Duracell factory at sunrise. With a focus on the big battery entrance.
---
Shandrani Beachcomber SPA – Mauritius
I was commissioned to take some different aerial angles of the secluded SPA area at the Shandrani Beachcomber hotel, while I was staying there.
---
Zenite Boutique hotel – Angra do Heroísmo, Terceira
A vertical panorama of the brand new Zenite Boutique hotel we stayed in. Gives a good view of its location close to the beach and the old port. And you can even see the Cabras islands in the back.
---
Villa Le Cèdre – Engel & Völkers, Belgium
A classy stand-alone villa in the area of Gent in Belgium, in a green setting along along the river. Perfect example of real estate drone photography.
---
Chalet Degré 6 – the Alps, France
Magnificent modern wooden chalet in traditional style with a splendid long view on the Mont Blanc. Another beautiful example of real estate drone photography.
---
Villa Sabandari – Ubud, Indonesia
If you want to wind down in all comfort by the infinity pool with a view on the rice fields of Ubud, this luxury villa-resort is your go-to!
---
Real estate project in Kortrijk, Belgium
I provided the drone shots for this video. It's a fancy new real estate project they are building from the ground up. The 3D modeling was done by divide.tv/
---
Let's rest up on that cosy rooftop bed, away from the busy city life. We certainly enjoyed it 🙂
---
Chalet in the French Alps
What a great place to spend some days in the Alps, this wooden chalet is amazing. Whether you want to go skiing during winter or hiking during the summer, this modern chalet is all you need.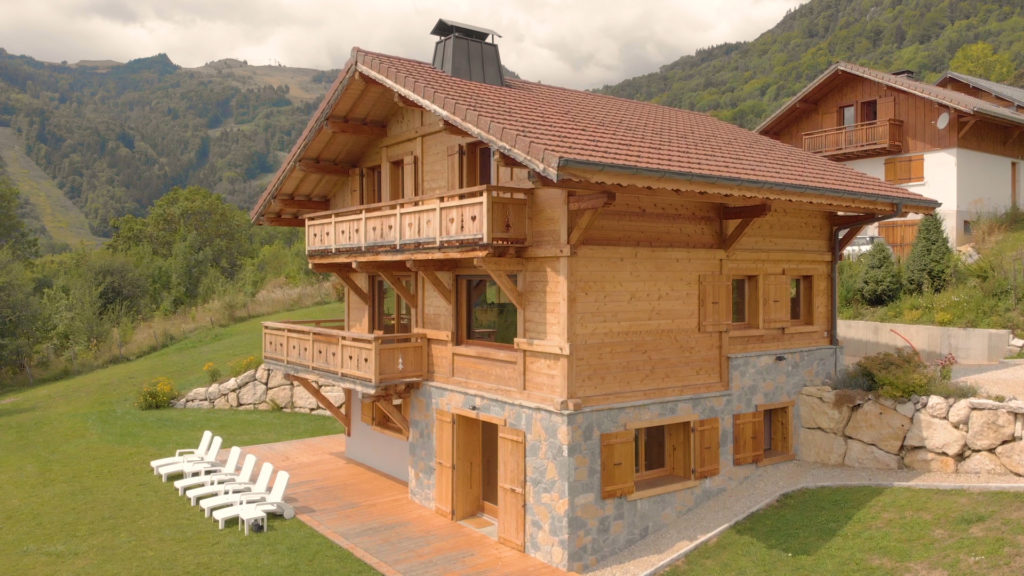 ---