This is my original drone photo trip! After 2 very successful editions in 2021 and 2022, it is now time for the third edition in May 2023.
With a small group of enthusiastic drone photographers we will create the adventure of a lifetime. This is the kind of trip you will be telling your grandchildren about! 😊
Over the course of 6 days I will show you the best drone spots, help you to improve your drone photography through live workshops in the field and editing workshops in our private villa. We'll share best practices and tips in the group of like-minded participants. And in general we'll just have a lot of fun in the most incredible location in Europe.
---
Interested? Get on my email list:
And be informed when the bookings for the Azores trips 2023 will officially open up:
---
Azores drone trip in a nutshell:
6 people + myself
6 days of adventure on São Miguel island
29/04-05/05 or 06/05-12/05
1 private luxury villa with pool & panoramic ocean view
With a private chef to prepare us some delicious Azorean food
Sunrise & sunset drone shoots at the most epic locations
Several outdoor adventures (kayaking, mountain bike & little-known hiking trails)
1 whale watching tour* 🐋 (with the drone!!)
Drone photo workshops in the field
Composition & Lightroom editing workshops at the villa
Learn to shoot with (local) models
Natural volcanic hot pool relaxation in an epic setting
* in 2021 we saw a pod of 9 sperm whales just chilling at the surface. This was definitely the highlight for most participants! 😍
---
Our luxury villa on São Miguel:
As usual on my drone trips, we'll be staying in a beautiful luxury villa with pool and ocean view. This private villa will be our home for the 6 days, so you can relax in all comfort in between the shoots, we can easily get together for the composition & Lightroom workshops and of course enjoy our chef's delicious home-cooked meals every evening.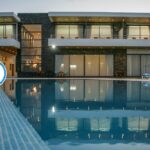 ---
Azores drone trip testimonials:
Just do it, you won't regret it 😉
It doesn't matter if you're an experienced drone pilot or you just have a few flights, with or without photo or film experience, Johan will assist you on your own level. Get ready for the best locations, the best food and a great time!
Arno Raps
Netherlands 🇳🇱

Great trip for drone beginners
As a newbie to drone photography I was a bit apprehensive. However, the trip was very relaxed. Johan was always there to help and give advice. The locations on this trip are amazing: wonderful opportunities for drone photography. And the accommodation and food are highly recommended as well !!
Sofie Rysheuvel
Belgium 🇧🇪
A magical trip
The Azores adventure in May 2021 was a magical trip. I had more fun pushing my limits that week than in a year of droning over flatland.
Patrick Lemli
Belgium 🇧🇪
Once in a lifetime experience
For me it was a once in a lifetime experience. A trip full of activities and lot of tips & tricks to make my drone shots go from 'OK shots' to 'WOW shots' 🤩
Nick Vandenabeele
Belgium 🇧🇪
Stop what you're doing and go with Johan!
Next to composition and the right timing, I've learned that it's all about pushing your own limits and trusting your gear. The knowledge, adventures & people you get to meet are really worth the trip.
Florian De Lange
Belgium 🇧🇪
Expectations exceeded 👍
Through 6 days of intense droning I gained a lot of confidence in handling tricky situations, because Johan is always around to help. We worked with models, launched the drone from a boat, always chasing the 'money shots' and editing them in Lightroom. I met like-minded people from different countries and had a lot of fun. Johan is always in the best mood, being our tutor, guide, host and driver. I'm definitely joining again!
Sabine Gerold
Germany 🇩🇪

Level up your drone skills
The perfect way to level up your drone photography and video skills! In a small group of drone-minded people, you get to see the most beautiful places on the island! We also spent several hours at sea to capture amazing footage of dolphins and whales. Everything was organized in the best possible way. Just chill, relax and enjoy the 'Drone Adventures'!
Miel Capals
Belgium 🇧🇪
Want to go PRO?
Johan will show you how! Johan was our amazing guide, teacher and cheerleader, training us with his wisdom and insights across an amazing, intense 6 day adventure across São Miguel. We – of course – came away with epic photos, but also better skills, great memories and new friends. Join the club!
Simon Heatherman
United Kingdom 🇬🇧
When can I go again?
Dronetrippin' with Johan was amazing. He showed all the best drone spots and had many tips and tricks to share! Only one question remains … when can I go again!
Dimitrie Deman
Belgium 🇧🇪
I've started saving for the next trip 😁
I got a lot more than I anticipated. I was immediately met with challenges, flying in complex situations and over the ocean, shooting with a model next to a tall waterfall. However Johan was always there to reassure and guide me. Besides all the photo opportunities, Johan made sure that we were indeed on a holiday. We enjoyed the natural thermal baths and our chef served excellent Italo-Azorian food in our beautiful villa. I will remember this trip forever! 😍
Andy Scherpenberg
Belgium 🇧🇪
Makes you want to wake up at 5.30am
The drone trip with Johan makes you want to wake up at 5.30am each day to not miss the perfect lighting for your shot. Amazing landscapes, a lot of useful tips and practice, great teamwork – all while creating lifetime memories. A perfect example that sometimes you can mix work with pleasure 😉
Monika Klenowska
Switzerland 🇨🇭
Boy, was I more than pleasantly surprised!
I am an experienced photographer with decades of experience. I signed up, because of the exotic locations and perhaps learn a thing or two. Johan skillfully interacted with each of us at the knowledge level we each had. He encouraged us to look at things differently and shared his experience and experiences joyfully. We all became better photographers, more than we expected, as well as adventurers. And the group forged a long-lasting bond.
Jeff Noreman
USA 🇺🇸
Johan makes the difference!
During my Azores adventure, I discovered I had no clue on what I was doing. Sure I took plenty of drone shots, but it was the coaching from Johan that now makes my audience linger and want more. Through my improved photos they are able to travel with me! 👍
Irv Donaldson
USA 🇺🇸
Raise your drone level with Johan
What a trip! Everything was organized as promised beforehand. We visited the most beautiful spots at sunrise and sunset to get the best out of our drones. Do you want to raise your drone level? Go with Johan!
Erwin Cammaerts
Belgium 🇧🇪
---
Interested? Sign up to receive future drone trips:
And be informed when the bookings for the Azores trips 2023 will officially open up:
---
Here's an impression of some of the spots we did on the previous Azores drone trip: