Like many of us – myself included – you are probably posting your photos on Instagram. With 1 billion active users, it is still the biggest platform today and an ideal place to showcase your portfolio, connect with like-minded drone photographers or even attract potential customers ? Let me explain why posting in a 4:5 portrait format will increase your stopping power on Instagram.
Post in a 4:5 portrait format
Now how do we optimize our photos for Instagram? By posting in the right format. Instagram is a mobile platform, mobile = vertical screens. So we want to use up as much of that vertical space as possible by posting in a portrait format.
'Format' is just another way of saying 'aspect ratio' ?
If you're unsure what this looks like while flying, have a look at this mock-up I made: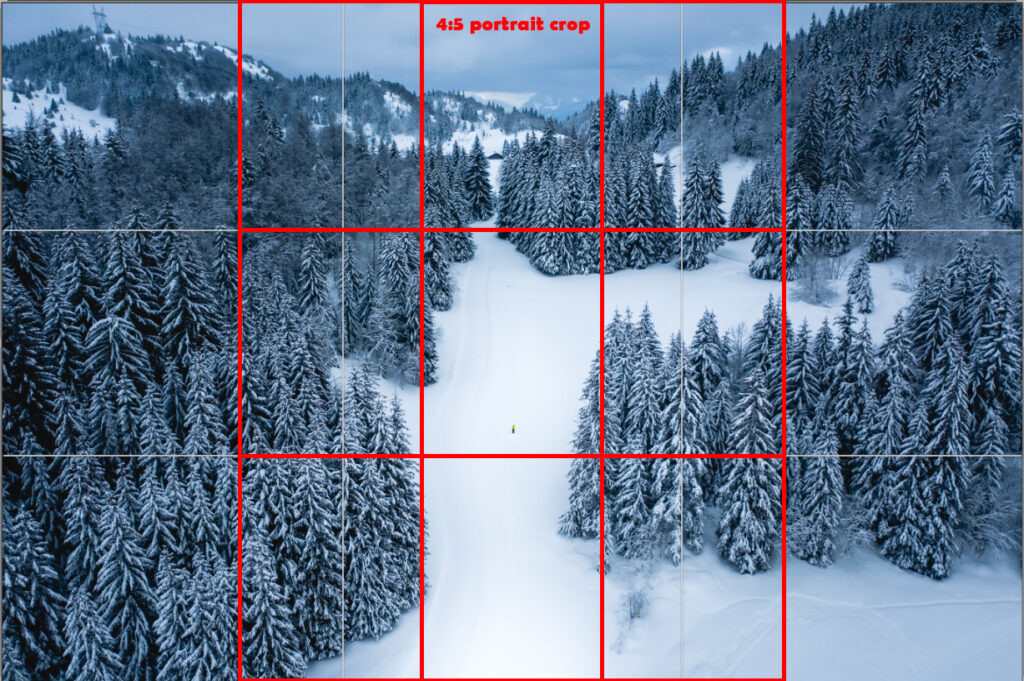 The background photo shows your regular screen (which is 4:3, don't use 16:9 btw, because this is just a crop in your sensor and you lose pixels). I have my gridlines activated in the DJI app, which are the grey lines.
And then in red I have overlayed the 4:5 portrait format for Instagram. Now stare at this photo for 2 minutes. Haha ? This will help you to reference yourself a bit better in the air.
Once you're back on the computer. Open up Lightroom and use the crop overlay tool (T) to create that perfect composition. Select 4:5 in the ratio and hit keyboard X to rotate from landscape to portrait. There we go!
Now find the right composition and once you're happy click 'OK' or keyboard enter to close this view. Voila, you now have the perfect format to export and post on Instagram. 4:5 ratio translates in the recommended 1080×1350 pixels when you export your photo. (read this blog by Later.com if you want all the details)
Now this format is guaranteed to give your more stopping power on your follower's feeds. Have a look at what a difference this makes:
---
I hope you enjoyed this quick tip? ? If you were triggered by my snow photo, Here are my 4 tips to take better drone photos in the snow.